We are using a free forum, and the company that provides it to us puts ads in the area indicated below. These ads often match your actions on the forum: Click on "Messages" and an ad will appear that says "You have 1 message!" I don't like advertising that tricks you into clicking and then starts downloading to your computer; if you don't like it either, ignore everything that happens in the area I've marked with a red box below. No matter what it says in that area, it is an ad--and it is not from Psychic Hatchway!
See the orange row of buttons (Home Calendar FAQ Search, etc.) below the forum angel?
THOSE ARE THE ONLY BUTTONS YOU NEED TO NAVIGATE THE FORUM.
Sorry for shouting.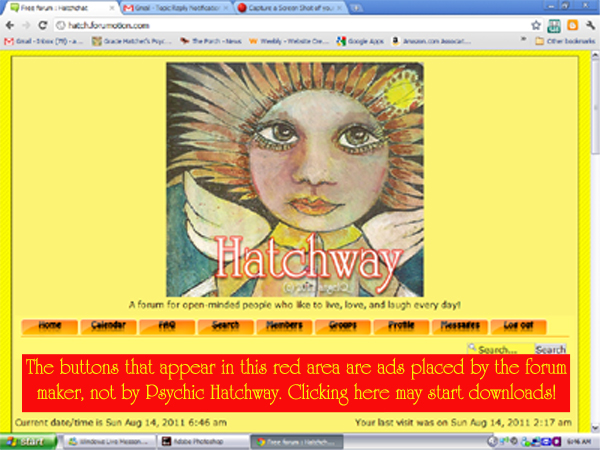 Forumotion: Thank you for letting us use your free forum software. If you start using honest ads that are not trying to trick people, I will look at them. Just a thought.
sister

sister




Posts

: 311


Join date

: 2011-08-04


Location

: Upper south, US



Thank you for letting us know sister

Lots of love & light to you


sagittarius




Posts

: 62


Join date

: 2011-08-13



I saw that today, too and instead clicked my messages and it said I had none.

I've been tricked before and got a bug on my computer!


Deenie




Posts

: 73


Join date

: 2011-08-17


Location

: Tejas



That's why if you aren't sure of something it's always a good idea to just ask someone. There's no harm in asking questions I say.
thanks
the iron man

iron9567




Posts

: 196


Join date

: 2011-08-08


Location

: vandalia,missouri




---
Permissions in this forum:
You
cannot
reply to topics in this forum